Laona Bank History from the "Memories of Forest County"


Prepared by Laona High School Students - 1980. 
The first bank in Laona was built in 1913 by a man named

Peter Hoffman.  It was located across from the High School.

The men that signed the charter for the first bank were:

R.S. Elliott, John D. Kissinger, Robert Quade, F.E. Alderton,

J.L. Castleton, and C. Dirrier.

Mr. John S. Kissinger was the first president until 1920,

W.D. Connor became president.  The next bank president

was Frank Ashenbrenner who was followed by Eddie Sturzl

in 1977.  In June 1946, the bank became a million dollar

bank; meaning one million dollars in total assets. In

December 1973 its assets were 5 million and in December

1978 the bank had 19 million dollars in total assets.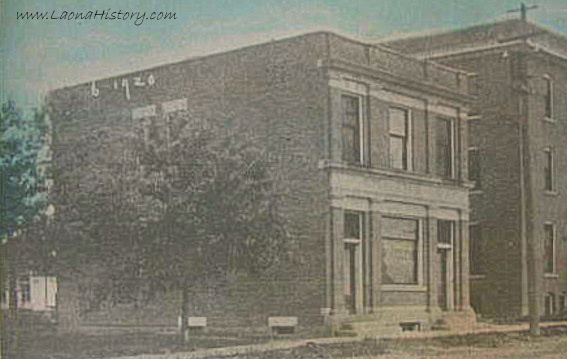 Laona Bank, Laona, Wisconsin circa 1926

Laona Bank Robbery

from the Research Project "Memories of Forest County"

It was Friday morning on October 19, 1951 when four hooded bandits came to

the Laona Bank and robbed it of $11,000. Three men entered the bank while

another one waited outside in the car.  It took the robbers about two minutes to

clean out bank.  They couldn't get into the safe, but they did manage to get bills

in $100 and $500 denominations.  After the robbery the bank employees 

described the thieves as "nervous amateurs".  It was believed the men were

familiar with the bank because they knew it was the lumber mill's pay day. They

also must have known the locations of the buttons for the alarm system because

they warned the employees to stay away from them.  Other employees were

told to lay on the floor during the robbery.

The F.B.I. were looking for a gray and brown Oldsmobile with license number

86111.  Planes were called to help out with the case.  The men were believed to

be hiding in a deserted cabin south of Laona.  Due to the heavily wooded area,

along with so many cabins, it was impossible to find them. 

On October 23, there was a break in the case.  A 41-year-old Green Bay mother,

her 14-year-old daughter and her 24-year-old son were charged with the holdup. 

F.B.I. agents said that the biggest clue came when they found a car purchased by

the son a few days before the robbery. This car closely resembled the getaway car.

  The Second Laona Bank Robbery

   July 21, 1967 from the Ironwood Daily Globe.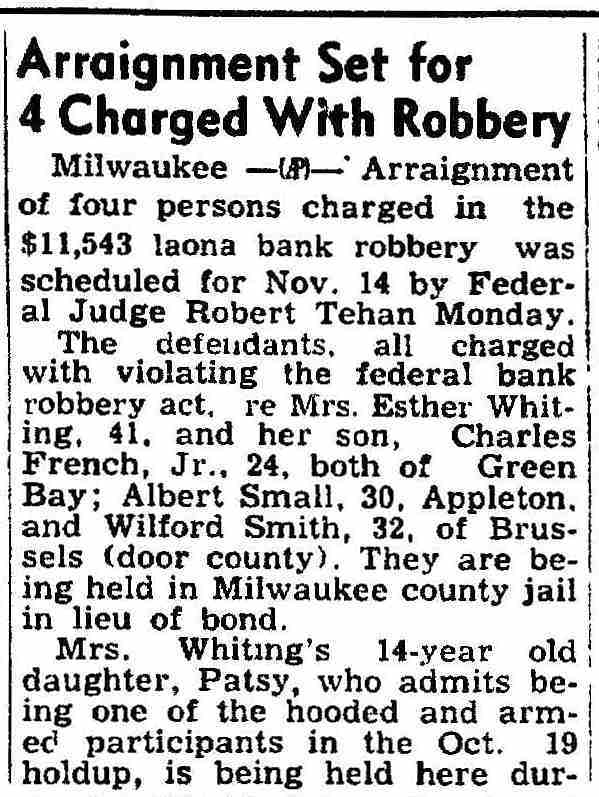 The First Laona Bank Robbery

  November 6, 1951 from the Ironwood Daily Globe.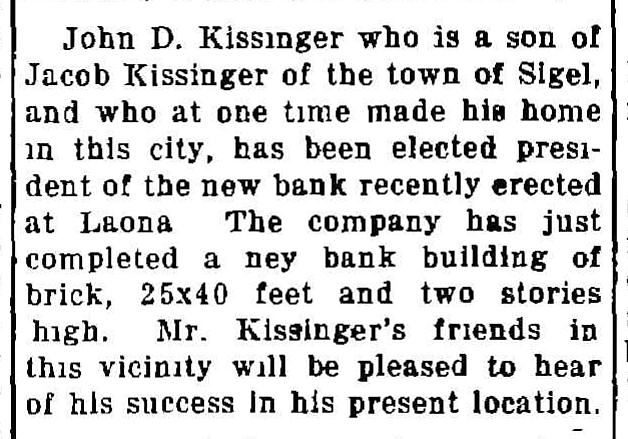 Grand Rapids Tribune (MI)  January 28, 1914.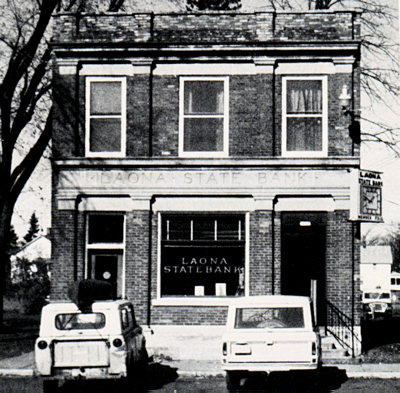 Laona Bank, Laona, Wisconsin circa 1975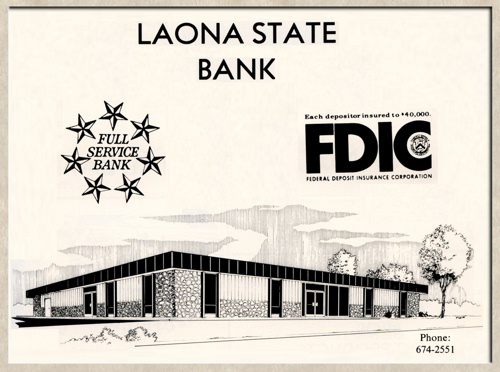 Laona Bank, Laona, Wisconsin 1978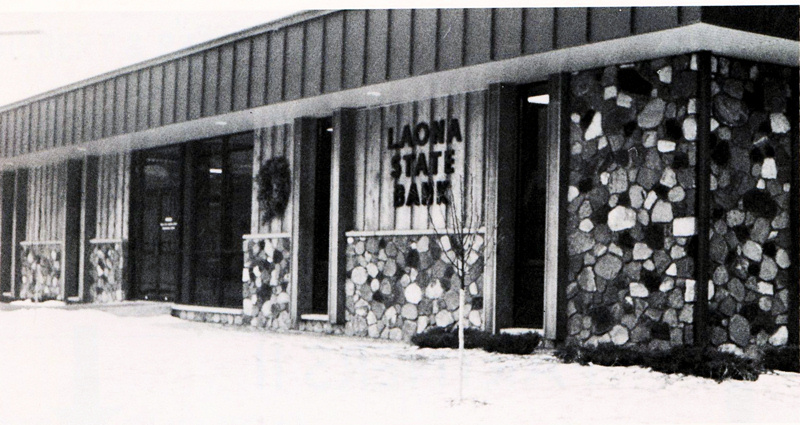 Laona Bank, Laona, Wisconsin circa 1980